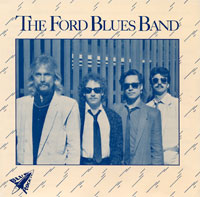 The Ford Blues Band Blue Rock'It Records BRCD 108:

Garth first recorded for Blue Rock'It records as a member of the Ford Blues Band. Not only does he sing and play guitar on this outing, he also engineered it!

1. Shuffle For Walter
2. Parchman Farm
3. Self Preservation
4. Mojo Boogie
5. Down In Mississippi
6. Blues Are Back
7. One Way Out
8. Take Out Some Insurance
9. Too Late
10. Alabama March
11. Crying For My Baby
12. I Gotta Know
13. Can't You See...
14. Cadillac Walk

Featuring: Garth Webber, Mark Ford, Patrick Ford and Ron Gurewitz.