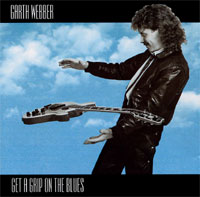 Get A Grip On The Blues Blue Rock'It Records BRCD 112:

Garth first recorded for Blue Rock'It records as a member of the Ford Blues Band. Since then he has made a name for himself as a master of his instrument, even taking a place with Miles Davis as replacement for Robben Ford. Garth is a great songwriter and the material on this album really packs a punch. Let Garth help you get A GRIP ON THE BLUES!

1. You're A Bad One
2. Hard Rain
3. Ain't No Way
4. 40 Days 40 Nights
5. Little Red Rooster
6. Can't Wait For You
7. The Bayou
8. There's Only One
9. I'm So Glad
10. Give It Up
11. She's Murder
12. I Feel Good

Featuring: Garth Webber, Mark Ford, Bowen Brown, John R. Burr, Myron Dove, Liz Fischer, Dave Garibaldi, Ron Gurewitz, Tony Lufrano, Frank Martin, James Page, Jimmy Sanchez.